Read Time:
4 Minute, 43 Second
The Gabon Minister of Water, Forest, the Sea and Environment, Prof Lee White, launched the Climate Justice Torch (CJT) Campaign in Libreville on 28, August 2022. 
The CJT, an initiative of the Pan African Climate Justice Alliance, is a mobilization campaign initiated to raise interest among the African public and coalesce various African voices towards a common position as the continent prepares to host the 27th Conference of Parties to the UN Framework Convention on Climate Change in November in Egypt. 
"Science has proved it and has time and again told us Africa is at the forefront of the climate crisis because of a problem it did not cause. As Africans, we must not tire in telling and retelling the global north to not just sort out the mess, but finance the loss and damage and adaptation efforts by the Africans," 
Prof White said while addressing thousands of climate activists that had gathered at the ministry headquarters in Libreville. This Climate Justice Torch campaign launch aims to kick start an Africa-wide process of enhancing visibility of the struggles and resilience of African communities on the frontline of the climate crisis by giving them a platform to voice their issues and shape priorities for discussions in COP27.
"Today, as part of our drive to amplify our voices, we are glad to launch the Climate Justice Torch campaign, which aims to mobilize and galvanize voices of the vulnerable communities. We want this torch to illuminate our aspirations as Africans," said Dr Mithika Mwenda, Executive Director, PACJA.
Mithika said the Torch Campaign would raise the demands by the continent as a special needs and circumstances region, prioritization of adaptation, loss and damage and, of all, "illuminate climate finance so that the blurred view with which the global community sees climate finance can cease forthwith," he said.
He added that African communities and African people have demonstrable solutions to drive locally-led, people-centred adaptation against the climate crisis. They have existing structures, indigenous knowledge and determination to adapt.
 "As the Pan African Climate Justice Alliance, we have tapped on these "just" solutions to build and enhance the resilience of communities on the frontline of climate change impacts, through innovative locally-led climate actions," Mithika added.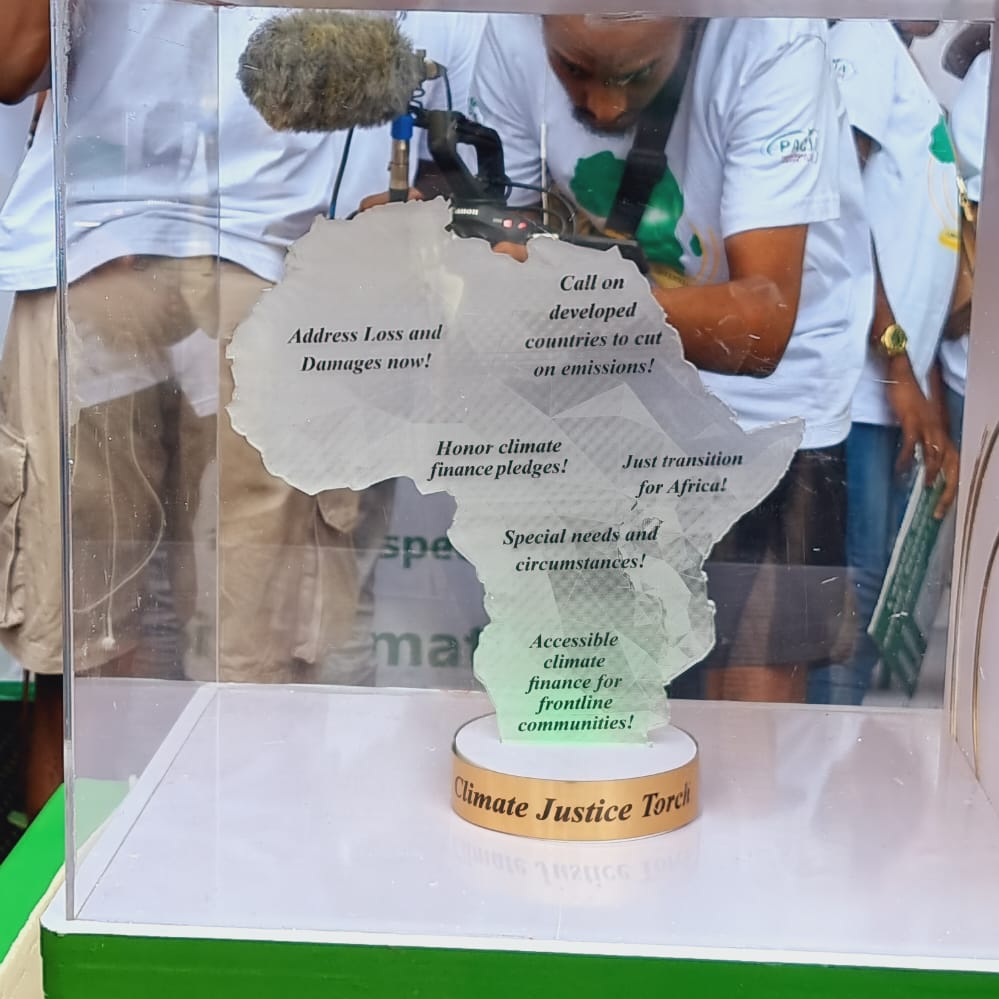 He, however, noted that these efforts are not enough. Governments, he said, particularly those in the North, and their companies, neither recognize nor consider community efforts as solutions to growing threats to the climate crisis threatening to reverse decades of efforts to defeat poverty and attain sustainable development.
As a result, he said, voices of those at the frontline of the climate crisis – smallholder farmers, fisherfolk, women, youth, pastoralists, SMEs, hunters, gatherers – have continued to miss out at the decision-making tables.
"But in Sharma – El – Sheikh, we have a unique opportunity to change this, given that we, as Africans, the people facing the worst brunt of the climate crisis, are hosting COP27 on our soil," Mithika said. Rev. Dr Ezekiel Lesmore, who also is the Director of programmes at the All Africa Conference of Churches, AACC said climate change has evolved.
"Africans are dying and being displaced as a result of the climate crisis," he said. Rev Dr Lesmore said faith leaders are first respondents of those displaced or in mourning of loved ones due to flooding, death due to drought or climate-related insecurity. "The places of faith host thousands of suffering people from climate-related impacts.
All that the faith wants is accountability. We seek to work with governments to find solutions," he said. Through the leadership of young people on the continent, the Climate Justice Torch campaign will provide a platform for women, young people, indigenous people, pastoralists, fisher folk and their movements as well as children in the frontline of the climate crisis to amplify their issues, share their propositions and convene dialogues with policy makers.
The Climate Justice Torch will contribute to the effective building of an African narrative on climate justice by ensuring meaningful engagement within targeted communities directly affected by the climate crisis. In addition, it will profile the issues at stake, contribute to advancing to commitment to operationalizing the special needs and circumstances of the African continent and inspire the youth, women and vulnerable populations to tell their stories in their own language, about their understanding of the climate crisis.
The Torch will move from country to country through communities who will also be sharing experiences of good practices on climate actions at local level, voices of which will be used to lobby and advocate for a COP for the African people in Sharma El Sheikh when global leaders meet for the Climate Summit. African civil society groups hope that the voices so gathered will be enough to pile pressure on global leaders from wealthy and industrialized countries to adopt ambitious Africa-centric climate commitments and outcomes at COP27.
According to the UN's Framework Convention on Climate Change (UNFCCC), Africa is the most vulnerable continent to climate change impacts under all climate scenarios above 1.5°C.
Despite accounting for only 4% of global greenhouse gas (GHG) emissions, Africa faces climate-related challenges that pose a risk to livelihoods and public health and infrastructure investments, economies, water, food systems, and agriculture.
"It is a grave injustice that the impacts of climate change are felt by people in developing countries, most considering that they have contributed the least to the climate crisis," said Prof White adding that it is also wrong that Africans should bear the cost of historical and current emissions.