Read Time:
3 Minute, 29 Second
This March's community work (Umuganda) 2023, features messages on proper disposal of electronic and electrical waste in Rwanda.
The Government of Rwanda, through the Ministry of ICT and Innovation, has joined hands with the Global Green Growth Institute (GGGI), Rwanda Cooling Initiative and Enviroserve Rwanda to organise an awareness campaign theme: "Proper E-waste Disposal for a Healthier Future". The campaign aims to encourage the public to dispose of their old electronics, electrical (inefficient cooling appliances), hence increasing the country's e-waste collection rates for proper handling.
As part of the e-waste campaign, partners organised a community outreach activity during the monthly Umuganda. Through the March edition of Umuganda, the general public is encouraged to bring old, unfunctional, electronic and electrical equipment for proper treatment and disposal.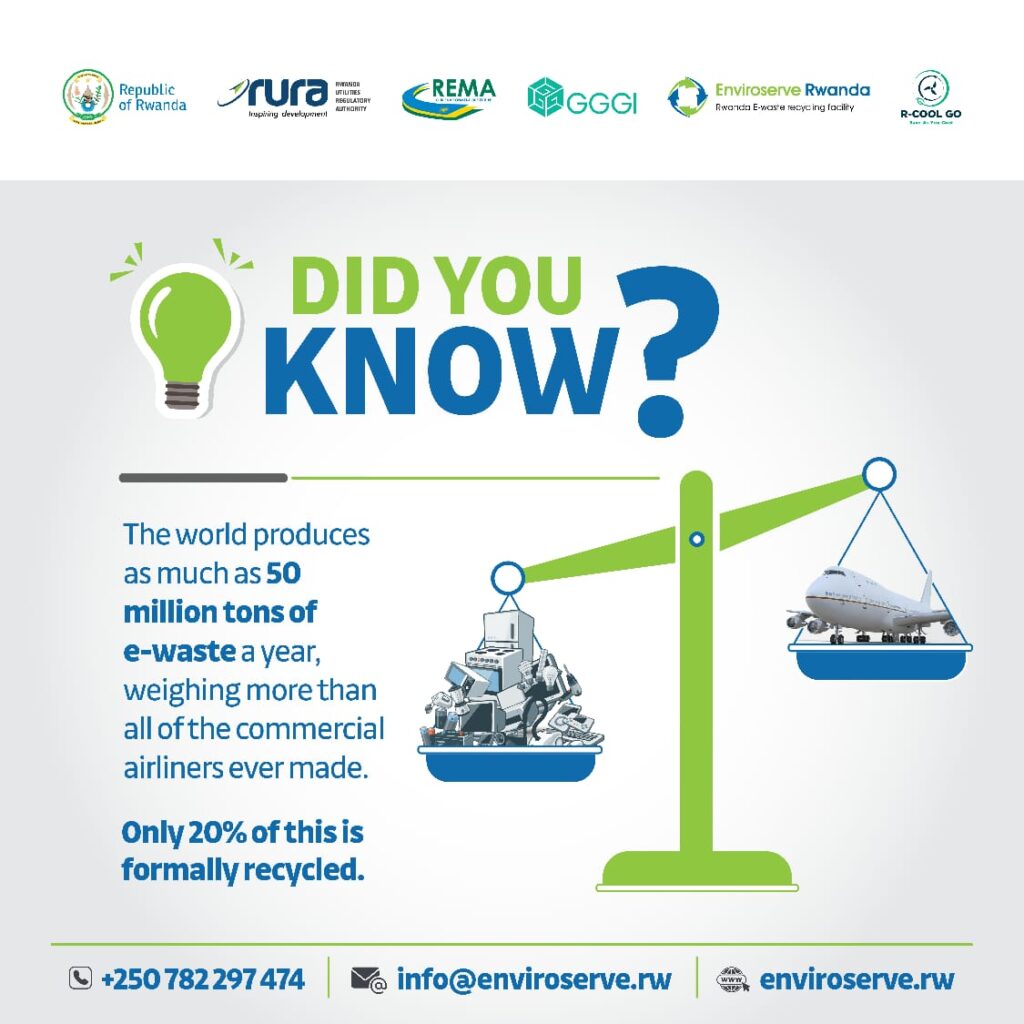 The national launch of the campaign takes place at Integrated Polytechnic Regional College (IPRC) Kigali premises on this Saturday, 25 March 2023 from 7 AM. During this event, local communities, public institutions as well as private organisations will be reminded of sustainable waste management practices and how they can contribute to reducing the negative impact of e-waste on the environment and public health. The monthly community Umuganda will be conducted across the country and a message of proper e-waste management will be communicated among others.
"With the increase in use of technology devices, e-waste is a cumbersome challenge to Rwanda's journey to become a climate resilient nation by 2050 due to pollution and health hazards. This event will be a great opportunity to boost citizens' awareness on the negative effects of e-waste, thus enabling Rwanda to emerge as a champion of e-waste management and achieve sustainable development," says Yves Iradukunda, Permanent Secretary at the Ministry of ICT and Innovation.
The Global Green Growth Institute (GGGI) works with the Government of Rwanda, civil society and the private sector to foster a green and circular economy and advance sustainable development.
"Rwanda has made significant efforts to promote green and circular economy initiatives to ensure a thriving environment and communities. Organising this event marks a remarkable step 1 toward engaging communities to play their role in protecting the environment and people's health. Let's join hands and set a great example for future generations," says Caroline Raes, GGGI's Country Representative in Rwanda.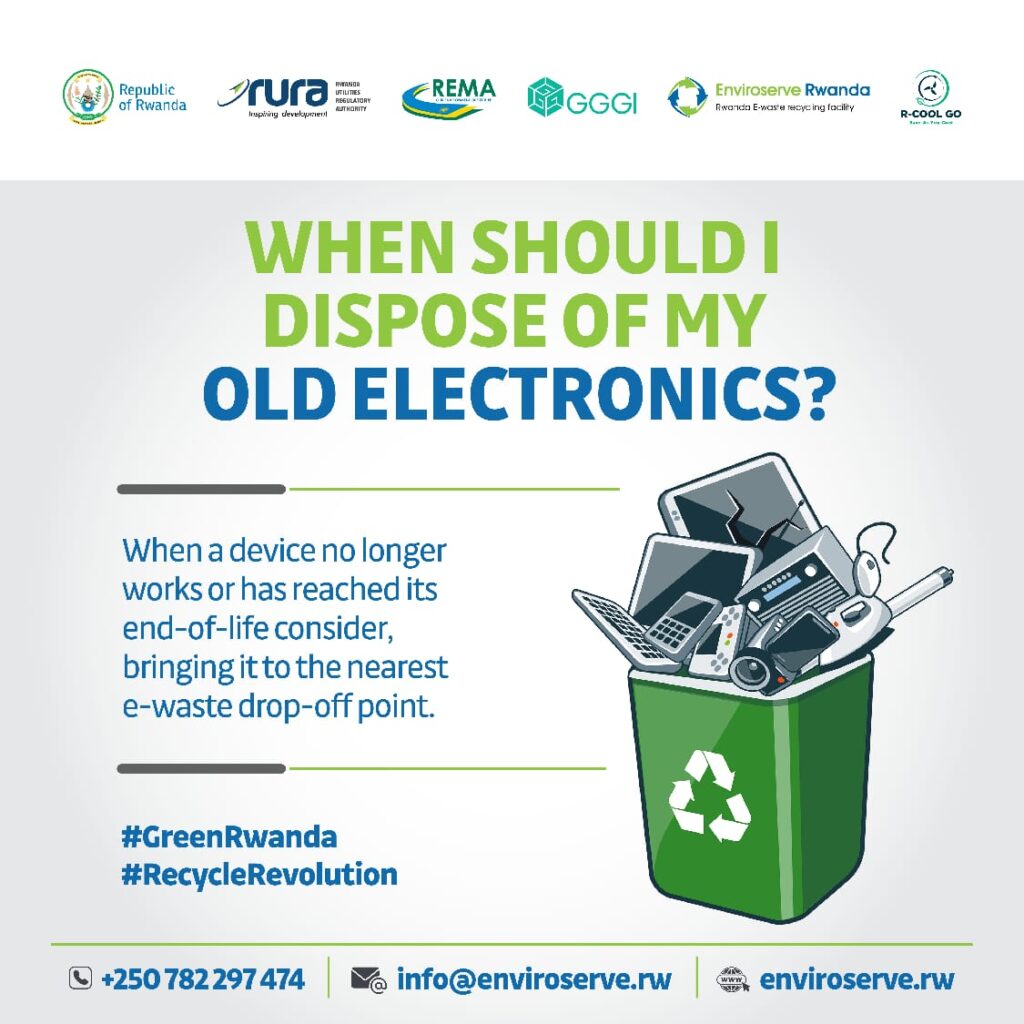 For many years, Enviroserve has been leading e-waste collection and recycling efforts in Rwanda. From the establishment of a state-of-the-art e-waste dismantling and recycling facility to setting up collection points across the country, the company has put in place necessary means for the public to address this growing e-waste challenge.
"We are excited for this initiative to increase awareness about e-waste management during this first-of-its-kind Umuganda. We believe that proper e-waste management is critical to achieving a greener and healthier future. We encourage the public to support this meaningful cause by not only participating in this initiative but also bringing old, unfunctional, electronic and electrical equipment during Umuganda and utilising available collection points across the country," says Olivier Mbera, Enviroserve Rwanda's Country General Manager.
"The Rwanda Cooling Initiative's Green On-Wage Financing mechanism is available to help the owners of outdated refrigerators or air conditioners to take advantage of the mechanism to acquire new eco-friendly cooling appliances at a 15% discount on the cost. This is beneficial because it allows the customers to buy energy-efficient and climate-friendly cooling appliances which save their energy bills and contribute to the protection of the environment," says Morris Kayitare, General Manager, Africa Centre of Excellence for Sustainable and Cold-Chain (ACES).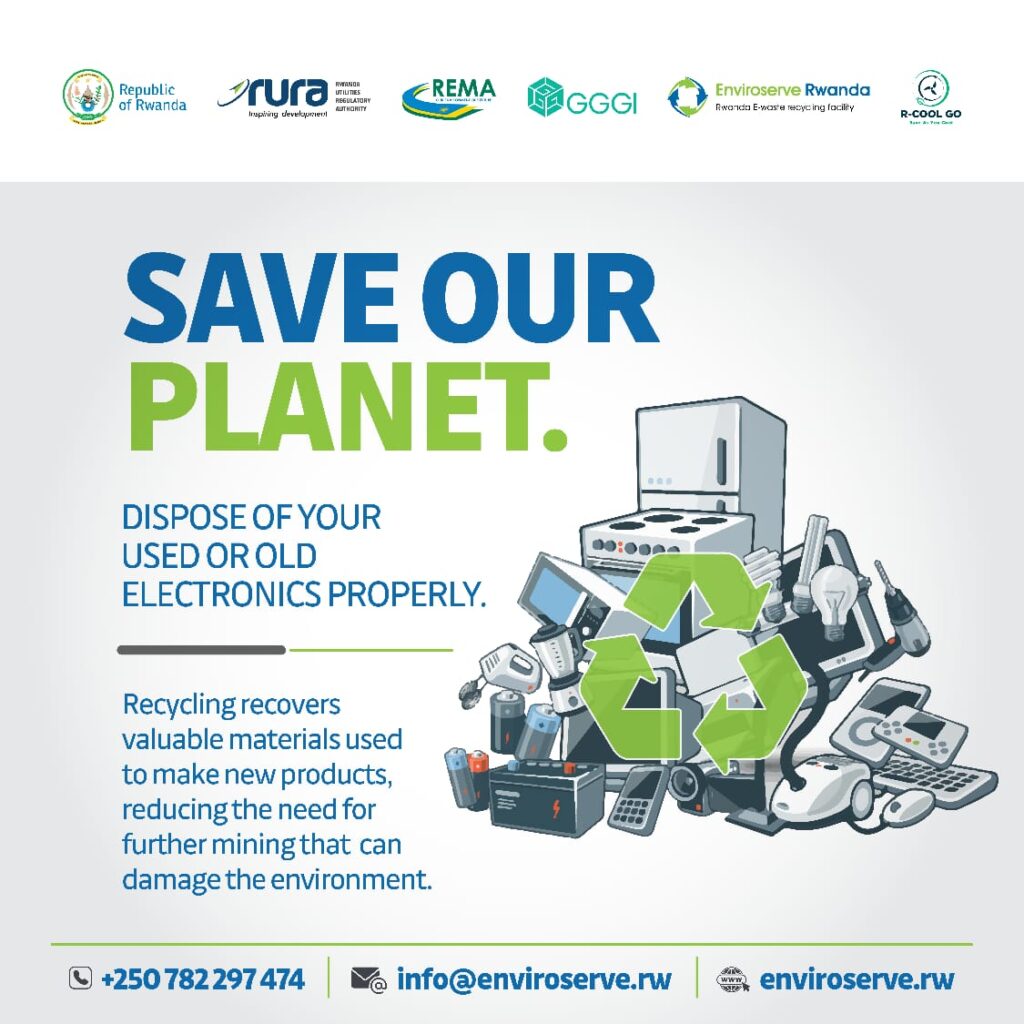 The e-waste expected for collection and disposal during this month's Umuganda include old and non-working mobile phones, tablets, laptops, monitors, old and inefficient cooling appliances, printers, televisions, cables, and batteries, among others. The e-waste that will be collected will be taken to the appropriate dismantling and recycling facility afterwards.
Other outreach activities that will be conducted as part of the larger campaign include roadshows across the country, media talk shows, and awareness training sessions in the City of Kigali as well as secondary cities.