Read Time:
2 Minute, 6 Second
A six-month-old baby named Nziza Noah Atherhope was born in July 2022 at Kabutare Hospital in Huye district, according to the birth certificate, but three weeks after birth he developed an undiagnosed illness and showed signs of turning blue on the tips of his fingers, feet and mouth, shortness of breath and shortness of breath.
The parents of this child are Ufitegihoza Félicité and Murekamanzi Cyprien who live in Huye sector, Rukira cell, Agahenerezo village in Huye district, Southern province. The parents say that they took the child to Kabutare Hospital because that is where he was born, and transferred to the University Hospital known as (CHUB).
He said, "We arrived at CHUB and they transferred us to the CHUK and they transferred us to the Kanombe Hospital, then they transferred us to the King Faisal, who stayed there for two months and the results showed that he is suffering for tetralogy of fallot."
He said, "All the resources we had are finished because it is so expensive to take care of the child that the hospital has nothing to help us and we pay a lot of money. When the child is three months old, they notice that there is a gap in the heart, the doctors tell us that when the child is born, all organs are not closed properly, but when he cries the gap closes immediately and nothing else is done, it is saved by crying when the child is born."
For now, in Rwanda there is no assistance about Tetralogy of Fallot. The doctors told them that the Intracardiac Surgery for kid is possible in India.
The cost this Intracardiac Surgery, is fifteen millions Rwandan Francs (15.000.000 Rwfrs equal $15,000 USD).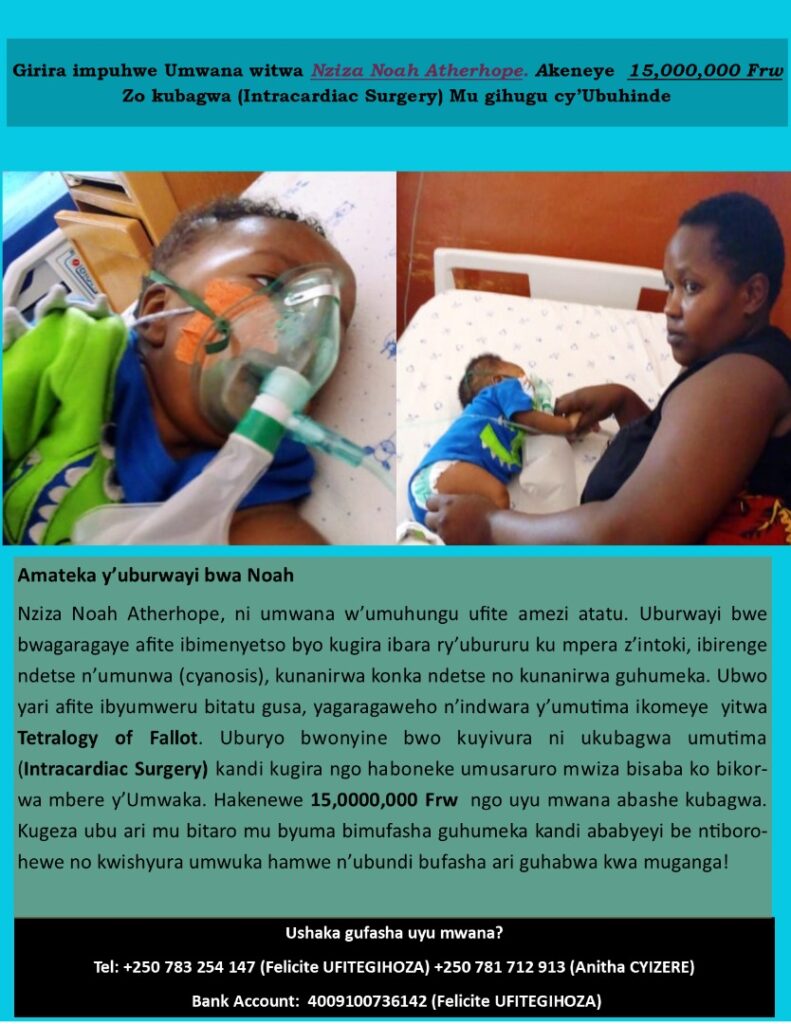 The support from brothers, sisters, family members and their friends is three millions two hundred and sixty thousand (3.260.000Rfws).
According to the copy signed by Minister of Health Dr Sabin Nsanzimana on 31st January 2023, the Ministry of Health accepted to provide medical assistance to Nziza and their parents have to cover other expenses.
Nziza need your support for non-medical expenses like foods, soaps, pampers and other things concern sanitation in India.
If you need to support Nziza Noah Atherhope for Intracardiac Surgery in India, you can use mobile money of her mummy called Ufitegihoza Félicité on +250783254147 registered on her own names and on his father Murekamanzi Cyprien on +250782683346 registered on his own names.
Giving brings more blessing than receiving. God bless you.