Read Time:
1 Minute, 33 Second
Lake Kivu covers a total surface area of 2730 km 2 with a volume of 560 km 3 and lies at an elevation of 1463 m above sea level. This Lake is a shared resource between Rwanda and the Democratic Republic of Congo (DRC) whose bed sits upon a rift valley that is slowly being pulled apart, causing volcanic activity in the area, and making it particularly deep: its maximum depth of 485 m is ranked nineteenth in the world.
A significant part (700km 2) of its watershed is located between the Lake and the volcanoes and is not drained by any rivers. The remaining 4,400 km 2 is drained by more than 100 small rivers. Lake Kivu empties solely in Rusizi River that flows southwards into Lake Tanganyika. The lake is surrounded by majestic mountains. It lies within the boundaries of Virunga National Park with settlements on its shore including important cities like: Bukavu, Kabare, Kalehe, Sake and Goma in DRC and Rubavu, Karongi and Rusizi in Rwanda.
Lake Kivu, unique worldwide, is a freshwater Lake rich in dissolved methane and carbon dioxide gases in its deep waters with hot spring on the surface in some points. It is a meromictic Lake whose water never mixes due to difference in density of different layers and thus, preventing outburst of deep dissolved gases. On the other hand, gases from deep, recharge and accumulate in the deep layers of the Lake. Therefore, methane gas exploitation helps to reduce the risk of gas and it generates significant amount of energy, to the socio-economic benefit the population. Also, fisheries and fishing in Lake Kivu have gained substantial economic and nutritional importance for the lakeside human population.
Lake Kivu is at the same time, a source of energy, a development driving and a beauty that fascinates local people, investors, explorers, and scientists.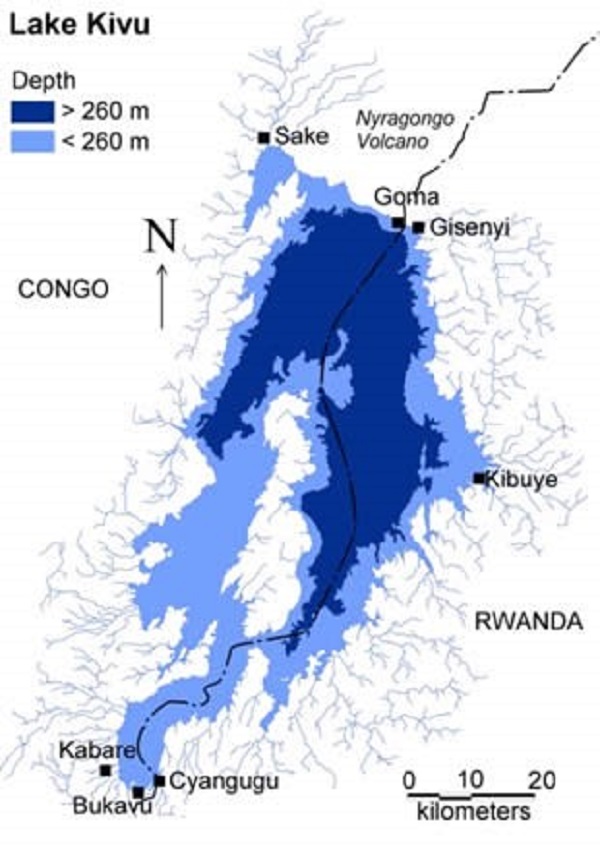 REMA