Read Time:
2 Minute, 22 Second
President Paul Kagame on Monday, November 6, held a "productive call" with United States State Secretary Antony Blinken which attracted various discussions including the deterioration of the security situation in eastern DR Congo, the office of the president announced.
According to a brief notice posted by the Presidency on X, formerly Twitter, Kagame and Blinken also discussed the need for de-escalation of hostilities and a political resolution to the conflict which has lasted for decades.
"President Kagame reiterated Rwanda's firm support for the ongoing regional processes to bring peace and stability" to DR Congo and the region, reads part of the post.
The on-and-off bilateral ties between Kigali and Kinshasa broke again following the resurgence of the M23 rebels in eastern DR Congo in 2022, with the rebel group blaming Kinshasa's government for violating previous peace deals.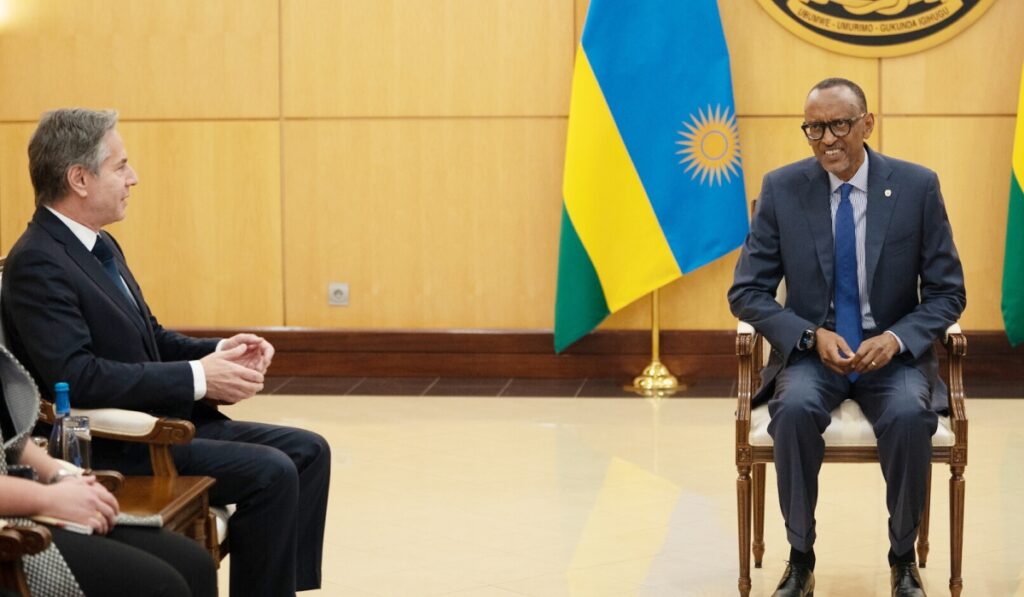 The Congolese government claimed Rwanda was supporting the rebels, which Kigali dismissed. On the other hand, Rwanda accused DR Congo of cooperating with the genocidal FDLR militia, a blacklisted terrorist group created by the perpetrators of the 1994 Genocide against the Tutsi in Rwanda which claimed the lives of more than a million people.
The genocidal militia has in recent years launched cross-border attacks against Rwanda, incidents which Kigali said were backed by the Congolese armed forces, FARDC.
In July, Kigali warned against DR Congo's use of pretexts to justify attacks on Rwanda.
Since July 2022, talks have been held between the two countries, with the mediation of Kenya, under what is called the Nairobi peace process, and Angola, under the Luanda peace process.
But, despite regional efforts to defuse tensions, the situation remains tense.
Congolese warplanes have violated Rwanda's airspace at least three times since November 2022, while rocket-shelling incidents injured civilians in northwestern Rwanda.
The DR Congo-based FDLR has launched attacks on Rwandan territory for more than 20 years. It is believed the militia group has been emboldened by support from Kinshasa.
On November 4, Heads of State and Government of the Southern African Development Community (SADC), held an extra-ordinary summit where they discussed a number of issues including the bloc's military deployment to eastern DR Congo.
In November 2022, the Luanda summit on the security crisis in eastern DR Congo ordered the FDLR to disarm immediately and embark on an "unconditional repatriation".
Kigali remains "deeply concerned about the ongoing collaboration and arming of FDLR and indigenous armed groups" by the government in Kinshasa.